I believe groups to be powerful agents of change in our lives. There is a time for individual work and time for giving and receiving to others in a group setting. If groups are constructed carefully and safety prevails, much inner work can be done. There is something about sharing our stories with one another, of speaking the truth of our lives that makes us feel less weird and much less alone. As a result, I value group work highly and treat it with reverence and respect.

In group work much can be accomplished. There may be time for interpersonal reflection. a time for sharing, a time for ritual, a time for quiet, and time for music, a time to write, and times for expressive work. Confidentiality is stressed as an integral part of creating safety.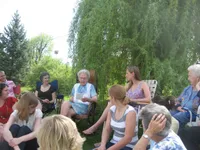 Please stay tuned for upcoming groups



We are committed to your privacy. Do not include confidential or private information regarding your health condition in this form or any other form found on this website. This form is for general questions or messages to the practitioner.